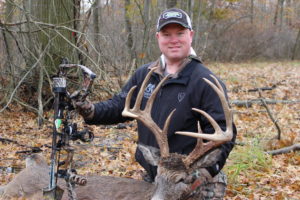 Our featured speaker for our 21st Annual Sportsman's Banquet is Jeremiah Catlin.
Jeremiah Catlin – military chaplain since 2005. Founder of Chappys Outdoors.
Chaplain Catlin graduated from CHOBC [Chaplain Officer Basic Course] in September of 2005 and was sent to his first duty station, Ft Bliss, in El Paso, Texas. His first term of duty was with the 1st Battalion, 44th Air Defense Artillery, 11th Brigade at Ft Bliss from September 2005 to March 2006. He then served with the 4th Special Troops Battalion, 4th Brigade, 1st Cavalry Division from March 2006 to March 2008. From October 2006 to December 2007 the unit deployed to Mosul, Iraq. In November 2007, he was medically evacuated from Iraq with a unique and deadly case of cancer. After Chaplain Jeremiah Catlin was medically evacuated to Walter Reed Army Medical Center in November 2007, he recognized the need to minister to the wounded warriors. That need was fulfilled through his love of taking them into the outdoors on hunting and fishing trips. This vision became the foundation for a non-profit ministry, Chappy's Outdoors, Inc. supporting more than 1200 warriors in 23 different states over the past nine years. The name of the organization reflects the nickname he received from his fellow warriors in combat, "Chappy." His involvement with warriors also landed him in the roles of videography and film editing for several outdoor organizations. These events have been in tandem with such outdoor giants as Realtree Outdoors, Hunter's Specialties, Bowhunter TV, Jackie Bushman "the Buckmaster", Major League Bowhunters, Bloodline TV, Jim Shockey, Jim Zumbo, Hank Parker, Jimmy Sites, and more!
Jeremiah is currently serving as President of Chappy's Outdoors, Inc. He served as pro staff member and video director for World Class Hunting 2013-2016. He often serves at L.E.E.K. Hunting & Mountain Preserve as their Chaplain for wounded warrior events. He has volunteered at the Peterson Outdoors Ministries' annual wounded warrior hunts as a cameraman/ speaker. He works closely with Operation Second Chance, National Wild Turkey Federation, Warriors Outdoors, Safari Club International, and other organizations to coordinate, schedule, and arrange for warriors to attend their annual events. His personal hunting experience covers over 30 years of upland game bird hunting, small game, and big game such as elk, deer, bear, and more. His personal fishing experience spans more than 30 years of fishing in more than 20 different states for fresh and saltwater species and includes competing in amateur-level tournament series. His video work has been featured in the following shows: Bowhunter TV, Spiritual Outdoor Adventures, World Class Hunting, Adventure Bound Outdoors Television, Bloodline TV, Hunter's Specialties, and most recently as a pro staff member and cameraman for God's Country TV on the Hunt Channel and the popular online TV show, Team Part-Time Whitetails.